Affordable Website Design and Consulting:
Over the past decade, a lot has changed in the web design industry. Straight Html sites are now becoming a thing of the past. Content Management Systems (CMS) are now the trend and rightly so. A CMS done right can help you better organize and deliver your message to your customers. It also allows customers to interact online and connects well with all popular social networks.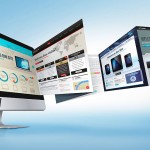 Microlinx  builds and maintains your web projects, opening up your valuable time for running your business. We handle any sized business. Your site can be up and running usually within less than 24 hours of contacting us. We manage the CMS and you're free to either enter content yourself (if familiar with WordPress or your favorite CMS). We can also handle your content creation for you. See rates below.
Go Mobile!
You may have noticed a lot of people walking around with their face pointed at their smart phone. That's fast becoming YOUR audience! Mobile phones, smart phones and tablets have now exceeded 60% of internet traffic. Old websites were designed to display on large full screen monitors, but when you pull up that site on a mobile device, the content just doesn't fit and you'll likely lose a potential customer in the blink of an eye. All ours sites are designed to be "responsive", meaning they dynamically adjust to the proper screen resolution for any mobile device.
Built for Speed:
Glitz and glamour is nice, but speed is what will keep customers coming back for more. A slow website with a high bounce rate is a poor user experience, so we keep our designs as sleek and fast as possible to keep visitors on your page, not trudging through a content overload.
Our web design services also include:
WordPress CMS platform
Responsive Website Design
Free SSL Certificate
Firewall Security
Sitemaps
Galleries and Sliders
Contact Forms
Mapping
Traffic Analytics
Social Traffic
Backups and Site Maintenance
eCommerce shopping cart solutions
No Job Too Big or Small:
It doesn't matter what size your business, we can tackle virtually any type website. Maybe you need a small bar or restaurant site to get your name out there and provide hours and menu selection. Perhaps a brochure site to get your company story to customers and generate sales leads. Have a product or a whole line of products to sell? we can set up a fully functional shopping cart system and even provide you with a merchant account. The possibilities are endless. The design process is collaborative and can be done remotely. We also can travel to your location if within 100 miles of the Fox Valley.
If you require website design services, please CONTACT US us to describe your needs. We'll review the information and begin a dialog with you to start building your site. Click here to review our service rates.
Once your site is up & running, you may want to consider our Search Engine Optimization (SEO) services.
Checkout some of our clients sites.
Contact Us to get the ball rolling on your web site project management.
Locations:
While we operate globally, we mainly provide services to clients located in the United States. Microlinx can provide on site services to the following communities: Appleton, Neenah, Menasha, Oshkosh, Fox Valley, Fond du lac, Kaukauna, Wrightstown, DePere, Green Bay, Shawano, Wisconsin Rapids, Steven Point, Wausau, Rhinelander, Eagle River, Oconto, Madison, Milwaukee, Eau Claire, Hayward and all points between.
---