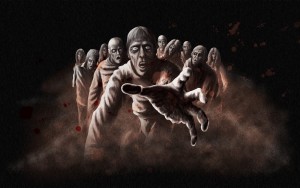 Back in 2010, as a member of Webmaster World, I entered into the discussion of what I had called Zombie Traffic. These were periods where traffic levels seems to stay steady, but visitors either sat on a single page for long periods of time or perhaps left before the page completed loading.  The first mention of this Zombie Traffic phenonmenon appeared on June 6th 2010 just a few weeks after the 2010 MayDay update. Prior to that, my site ran quite reliably for nearly a decade.
Mysterious Zombies:
A thorough analysis of traffic and site page load times revealed nothing out of the ordinary. The late Ted Ulle aka "tedster" and I discussed this topic to no end. At first people thought I was nuts, but I have a particular penchant for finding strange patterns within the chaos. Natural patterns are quite easy to spot, while unnatural patterns reveal clues to some other forces at work, be they algorithmic or some disruption in traffic itself. Traffic throttling or "shaping" was one theory, but with all the speculation there are still no answers.
Zombie Traffic Characteristics:
If your site is afflicted, you might see:
1. On normal traffic volumes, and no SERP movement, visitors suddenly stop interacting.
2. Visitors come to one page and either bounce or hang on one page for long periods.
3. No "normal" transition to other pages.
4. Sudden ON periods where Zombies disappear and "normal" traffic and conversions return.
5. Followed by just as sudden OFF periods where Zombie Traffic reappears.
6. Weekly conversions coming out to EXACT or very close totals.
7. Sudden zero runs. Long periods of zero traffic following hours of good traffic.
An Increasing Trend:
Well, this year a large number of the long time non believers have come out of the woodwork on what has now go to be one of the longest webmaster posts ever on webmaster world titled "Google ZOMBIE Traffic Observations".  All those who are reporting in claim to practice all "white hat" practices and that they generate great content…Google's concept of "quality" is a whole other topic.
Zombie Traffic can't be pinned on anyone yet, although many feel the need to blame Google simply because they run a black box business model. Some people do point to the coincidence that when Zombie Traffic or Traffic Throttling or Traffic Shaping seems to have appeared, Google was really starting to drive into profitability…which they did in a fast and furious manner from there on.  Many draw a parallel to Google's constant 20% quarterly profit increases and many webmasters constant 20% or worse declines in sales. It's all just speculation. Isn't it? See an example site below: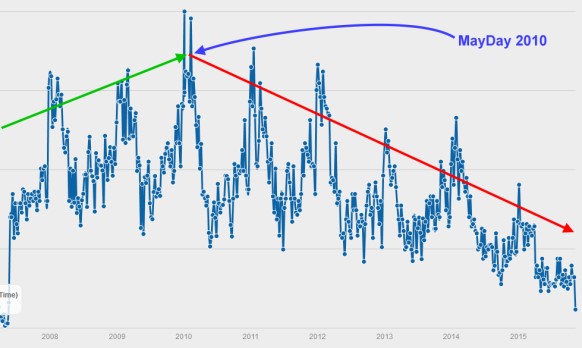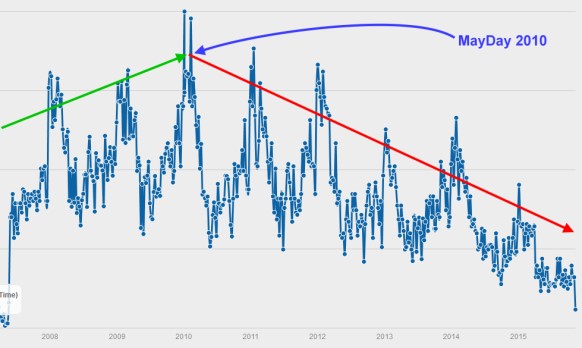 Where are Zombies coming from?
A few thoughts on where Zombie Traffic comes from includes mobile device proliferation, content dilution, PPC bidding increases, Google Shopping, Penguin, Panda and a zoo of other reasons. WMW is rife with speculation and wild conspiracy theories but the bottom line is that whatever is causing these mass, across the board declines, there is likely no quick fix. The web has changed from the Wild West, to a much more controlled medium and you can thank basic capitalism for that. So, to make a long story short, if your site has stopped working, and you continue to use the same old marketing methods of weaving more content or buying PPC ads, it's likely not going to work. Try thinking outside the box. Get offline and start thinking about doing business the old fashioned way by pounding the pavement and shaking hands with real people again. That's a time tested method that works wonders and is much more satisfying.
A New Perspective:
There is a cute little book out there that should be read by everyone who relies on Google traffic. It's a very short and easy read. It  pretty much sums up what has happened in the past few years. It's titled: "Who Moved My Cheese" by Spencer Johnson. Link below. It's only 3 bucks.
[amazonjs asin="0399144463″ locale="US" title="Who Moved My Cheese?: An Amazing Way to Deal with Change in Your Work and in Your Life"]
The web is an ever changing place and what worked yesterday might not work as well today. There's a reason for everything.  If you're having problems with your web site sales and see zombies in your analytics, feel free to share your thoughts in the comments below.
Zombie Traffic – When Websites STOP working.